TAKIKAWA PRECISION NON-CONTACT
LASER MICROMETERS OFFER VERSATILE PERFORMANCE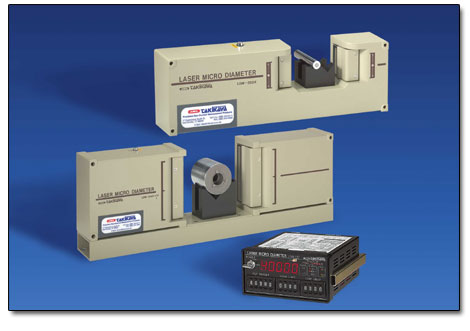 D.A.S. Distribution, Inc. announces the Takikawa LDM Series Precision Non-Contact Laser Micrometers designed to be economical, simple to use and reliable. Models 303H and 304H can measure length, width, height, position, thickness, gap and inside/outside diameter accurately to within +/- 2um linearity with 0.1um resolution. Ideal for bench top checking of machined part dimensions where precision is essential, automation OEM equipment or for use in a continuous process to measure diameter of cables, wire, hose, pipe, tubing, fibers and many others.

Two LDM models offer a wide measuring range from 0.25mm to 90mm to suit most applications. Models come complete with display processor which includes High/Low Alarm Limits, RS-232 Interface and +/- 10Vdc Analog Output. Model 303H with a measuring range 0.25mm to 30mm is available at $4,990. Model 304H with a measuring range 0.5mm to 90mm is available at $5,990 The LDM Series is available for immediate delivery from D.A.S. Distribution, Inc.